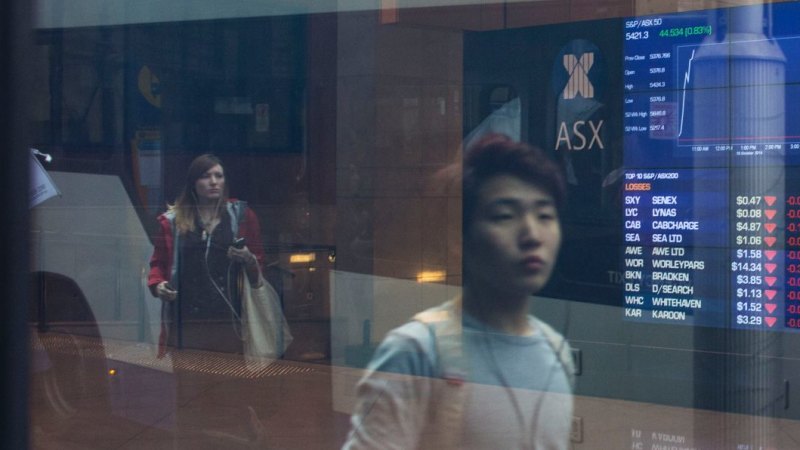 Energy stocks weighed on the market on Monday as the price of oil slid in reaction to concerns over global growth. BHP Group fell 1 per cent to $36.52, Woodside Petroleum closed 1.7 per cent lower at $34.70, Oil Search went down 2 per cent to $7.90, Santos slipped 2.2 per cent to $6.80, WorleyParsons slid 4.2 per cent to $13.77 and Beach Energy ended the session at $2.00 after falling 2.4 per cent.
Macquarie Group shares fell 2.3 per cent to $125.59 after the corporate regulator, as part of its review into fees-for-no-service failures, suggested the bank's calculation for refunds for fees paid for no service was inadequate.
Fund manager Perpetual jumped 12.3 per cent to $43.20 with no specific news around. Perpetual would not comment on the rise.
The most points were added by Newcrest after it announced it would pay $US806.5 ($1.15 billion) for a controlling stake in the Red Chris copper-gold mine and surrounding tenements in British Columbia. The deal marks the the local miner's first entry into North America. Its shares rose 3.8 per cent to $25.43.
Other gold miners were also among the market leaders on Monday as investors flocked to safe haven assets. Northern Star Resources climbed 4.5 per cent to $9.32, Evolution Mining rose 4.3 per cent to $3.64, Saracen Mineral Holdings lifted 5.5 per cent to $2.71, St Barbara closed 7.4 per cent higher at $4.48, Regis Resources advanced 5.1 per cent to $5.59 and Resolute Mining closed at $1.18, up 5.9 per cent.
Appen entered a trading halt on Monday morning, announcing the acquisition of San Francisco-based machine learning software platform Figure Eight Technologies. The company will fund the acquisition through a $285 million fully underwritten placement to institutional shareholders at an offer price of $21.50 a share. Its shares did not trade on Monday.
Stock watch
EML Payments
RBC Capital Markets lifted its recommendation on payment solutions provider EML Payments from «sector perform» to «outperform» after the company upgraded its guidance for the 2018-19 fiscal year. The company lifted its revenue from between $82 million and $88 million to between $88 million and $94 million, and its earnings before tax, depreciation and amortisation from between $26 million and $28 million, to between $27 million and $28 million. «We forecast solid growth for EML,» analyst Gary Sherriff said. «EML has signed contracts with high-profile, large multi-national gaming companies and we believe these contracts are likely to drive most of EML's growth going forward.» The broker lifted its price target on the company from $2 to $2.25.
What moved the market
Chinese commodity imports
China's already strong commodity imports are likely to remain just as robust in the coming months as the trade war between the US and China comes to an end. «China's imports for January-February were broadly positive,» ANZ senior commodity strategist Daniel Hynes said. «Energy imports held up well while coal and copper also showed signs of strong demand. Bulks and soybeans were the only ones to record sharp declines. With trade talks between US and China progressing well, we expect commodity imports to stay robust in the coming months.»
Brent crude
Concerns of a global growth slowdown on Friday saw Brent crude close the session in the red, ending four straight days of gains. On Friday, Brent crude fell 0.8 per cent to $US65.74 a barrel over concerns demand would be more subdued as the global economy slowed. «The US monthly jobs report showed hiring was at its weakest in more than a year,» ANZ head of Australian economics David Plank said. «These concerns over the macro backdrop were exacerbated by a slump in Chinese exports. The 20.7 per cent fall in exports was the biggest fall since February 2016. This raised concerns about the impact that the trade tensions are having on the global economy.»
British pound
The direction of the British pound this week will be largely determined by crucial votes in the UK House of Commons on Brexit, with some big swings mooted by analysts depending on how parliament votes. On Tuesday, London time, the House of Commons will vote on the current withdrawal agreement and a framework for a future relationship with the EU. If that's rejected, the House will then vote on whether to leave without a deal. According to CBA, the pound would likely jump as much as 5 per cent if the withdrawal agreement was accepted while a hard Brexit could see the pound fall as much as 8 per cent.
Data driven
Global share price movements are likely to be driven by a raft of data releases this week as investors look for signs about the health of the global economy. «The data schedule is packed this week with a nice geographical spread,» OANDA senior market analyst Jeffrey Halley said. «Tuesday sees Australian homes loans and US inflation numbers release but the main event will be the UK Brexit vote, which rests on a hopefully palatable motion being put forward to the House Of Commons. This could drag on with successive votes following on Wednesday and Thursday. Thursday sees China release highly-anticipated retail sales and industrial production numbers.»
William is a UTS journalism graduate and has worked at The Sydney Morning Herald. He now covers markets at The Australian Financial Review and keeps a close eye on IPOs.